Meet Our Friendly Rolling Meadows, IL Dental Office Staff
The first thing you'll notice when you walk into Riverwalk Dental is the incredibly friendly and inviting atmosphere. Members of our staff have been hand-picked to provide you the best possible experience during your visit to the dentist. Learn more about our team below.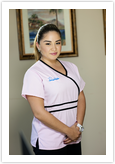 Julia A., Assistant Manager
Julia has now been in the dental field for 5 years. As our front desk concierge she plays a crucial role helping patients know and understand treatment options, cost, insurance benefits and duration of treatment. Julia is committed to helping our patients with any questions regarding treatment and scheduling appointments.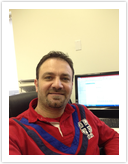 Wael Shahshouh, Office Manager/Marketing Director
As an office Manager, Wael oversees all operations in the office, and as the rest of the staff he is busy tending to the patient's needs and handling the many management duties around the office. He is also molding, monitoring, and maintaining the various marketing means of reaching all of you, in addition to ensuring our team has everything they need in order to effectively and efficiently provide excellent service to our patients.
Justyna A., Dental Assistant
Justyna has been in the dental field for 3 years now. She is currently attending college completing her associates degree. She is an excellent dental assistant eager to help patient make their appointment comfortable. Justyna enjoys traveling, music and books. She is also fluent in polish.
Samantha D., Hygenist
Samantha is our Registered Dental Hygienist. She has been with our practice since 2014. She specializes in the health of the gums and provides our patients with thorough and gentle cleanings. On her days off, she likes to spend time traveling, camping and being with family.
Lupita H., Dental Assistant
Lupita is our certified dental assistant. She has been in the dental field for over 4 years. Lupita uses her gentle techniques and friendly personality to achieve an excellent dental visit for the patients. She is fluent in Spanish. Lupita enjoys being active outdoors and working out.
Kuslum, Receptionist
Kulsum has been working in the dental field for over 4 years in hopes to prepare herself for a degree in dentistry. She has joined our office as a front desk receptionist over a year ago, and facilitates patient-office interactions such as scheduling appointments, welcoming patients, presenting treatment options, and assisting patients with their insurance processing. She is committed to provide outstanding care and answer any questions and concerns. Kulsum is also fluent in Urdu and Hindi. In her free time, she enjoys spending time with her family and friends.