Teeth Whitening
Our teeth can discolor through the years as our enamel wears down. The wearing down of enamel allows dentin, a yellow color substance that makes the core of our teeth, to show through. This is what gives our teeth a yellowish tint. Teeth whitening helps restore teeth to a shiny white color through the use of bleach.
We Offer ZOOM! and Custom Take-Home Bleaching Trays
ZOOM! In-Office Whitening
The quickest, easiest way to effectively whiten your teeth is in-office treatment with Philips Zoom WhiteSpeed. Zoom WhiteSpeed is the only in-office system that has variable intensity setting so each treatment can be customized to maximize patient comfort. The system also includes desensitizers to help minimize sensitivity and protect your enamel. This dentist-supervised, in-office procedure is safe, effective and clinically proven to whiten up to eight shades—for a brighter, whiter smile in just one office visit.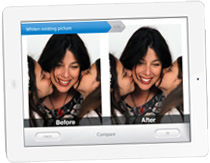 Download the Philips Zoom app to see what how you'll look with whiter teeth!
Custom Take-Home Whitening Trays
Whitening kits can be purchased at Riverwalk Dental for you to use at home. The strength of the gel used in these kits is lower than that used for in-office bleaching, and thus the gel can be applied for longer periods of time. Usually the trays are worn for a couple hours a day for a few days or weeks depending on the product.
It's best to consult Dr. Blaibel to understand which whitening option is best for you.