Rolling Meadows Dentists
At Riverwalk Dental the dentist is committed to providing excellence in dentistry, and stands out as a leading dentist in Rolling Meadows. The doctors use the latest in dentistry techniques to provide you with a beautiful and healthy smile. Additionally, the doctors believe strongly in education to prevent oral health problems before they occur, and makes sure to keep patients fully informed about their dental health. Read more about Rolling Meadows dentists below.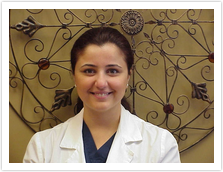 Maha Blaibel, DDS
Prior to RiverWalk Dental, Dr. Blaibel learned the skills for treating children while practicing at Infant Welfare Society at Oak Park and the Boys and Girls Club in Chicago. While at both facilities, she provided dental services for under-served and under-privileged babies, children, and young adolescents.
She is a member of the following organizations:
American Dental Association
Illinois Student Dental Association
Chicago Dental Society
International Association for Orthodontics
American Women Dental Association
Dr. Blaibel earned her degree in Doctor of Dental Surgery from the University of Illinois at Chicago, College of Dentistry. While there she earned many awards:
Delta Dental Plan of Illinois Award in 2006
Ambassador Program Scholarship in 2005 and 2006
National Honor Society of Collegiate Scholars in 2001
National Honor Society in Psychology in 2001
Golden Key International Honor Society in 2000
National Honor Society in Biology in 1999
Phi Theta Kappa International Honor Society in 1997
She was also honored to represent UIC College of Dentistry in health professional meetings, assist in campus community services, and recruit students to the college of dentistry.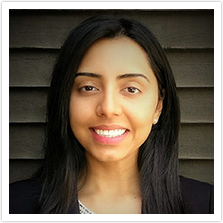 Dr. Ginu Dahiya
2013-2016 University of Illinois at Chicago Graduate Specialty Certificate in Orthodontics
Specialty Certificate in Orthodontics
2013-2016 University of Illinois at Chicago Graduate College
Master of Science, Oral Sciences
2009-2013 Case Western Reserve University School of Dental Medicine
Doctor of Dental Medicine
2005-2009 University of Toronto
Honours Bachelor of Sciences - Human Biology, Physiology and South Asian Studies
School and Community Involvement
2012 Student Doctor Volunteer, HealthCare International Reachout, Inc.
Outreach to Jamaica to provide care to impoverished school-children and adults.
2010-2013 Student Doctor Volunteer, Free Medical Clinic of Greater Cleveland
Help in providing care to those who lack access to dental & health insurance, are unemployed or lack appropriate alternatives for acquiring dental care.
2009-2013 Student Doctor Volunteer, Healthy Smiles Sealant Program
Perform dental exams & place sealants on school-children in under-served areas of Cleveland.
2008-2009 Community Outreach Volunteer, Toronto Dollar
Volunteer for non-profit community improvement organization and charity.
Scholarships & Awards
2016 Charley Schultz Resident Scholar Award, American Association of Orthodontists Annual Session, Orlando, FL.
2013 Dean's List, Case Western Reserve University
Awarded to the top 6 academically accomplished students from a class of 70.
2009 High Distinction, University of Toronto
Awarded to students with a cumulative GPA of 3.50 or above at graduation.
2005-2009 Dean's List, University of Toronto
Awarded to students with a cumulative GPA of 3.50 or higher.
2005-2006 Queen Elizabeth II Aiming For the Top Scholarship, Province of Ontario
Awarded to students who have shown academic excellence.
2005 Governor Generals Academic Medal, Governor General of Canada
Awarded for outstanding scholastic achievement.
Leadership
2011-2013 Program Leader, Student National Dental Association
Involved in university chapter of organization that seeks to promote, support, and encourage a promising academic environment for minority dental students.
2007-2009 Vice President, University of Toronto Pre-Dental Society
Organization that assists students seeking to gain admission to dental school.
2007-2009 Vice President of Academic Affairs, SASSA
South Asian Studies Student Association at the University of Toronto.
Professional Memberships
American

Association

of Orthodontists Illinois Society of Orthodontists Chicago Dental Society

American

Dental Association Interests and Hobbies

Indian

Classical Vocal/Instrumental Music:

Performed at cultural events.

Painting, Drawing, Sketching

: Lifelong passion for artistic expression.

Flâneur/Urban

Explorer

: I love getting to know urban areas & communities.